Infrared Sauna

What is Infrared Sauna Therapy?
Infrared saunas are a type of sauna that uses heat and light to help relax and detoxify the body. Unlike a normal sauna that heats up quite quickly, it relaxes the body and opens up the pores.
Traditional saunas use temperatures as high as 180 to 210 degrees F, which can overwhelm those who are more sensitive to the heat. Infrared saunas use a much milder temperature environment of between 120 to 140 degrees F. However because the heat of infrared saunas travels much deeper into the body, they are able to cause a more vigorous sweat at a lower temperature and remove toxins, making it at least 6 times more effective in detoxification than an overly-hot traditional sauna room. As your body temperature heats up, it increases sweat production to cool itself.  Then your heart works harder, pumping blood at a faster rate, boosting circulation.
Benefits of Infrared Sauna Therapy
Detox through sweating (7 times more than a traditional sauna)
Weight Loss (burns up to 600cal in 30 minutes)
Reduces Cellulite
Helps to relieve Candida Symptoms
Helps to eliminate Parasites, Yeast and Chronic infection
Remarkable Pain Relief
Promotes Relaxation
Please make sure you are well hydrated before, during and after your Infrared Sauna Therapy Session.  It is advised not to eat at least one to two hours prior to your sauna session. Do not use any chemicals or lotions prior to your sauna session. These items may block pores and affect perspiration as well as stain the wood of the sauna.
What type of Sauna do you use at your clinic?
Our 2-person Sauna is made of natural wood (solid Hemlock). It has a thick glass door and offers low EMF far infrared. It also includes Chromotherapy/Color Therapy if desired.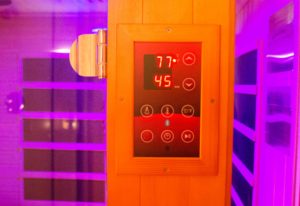 What are the Costs?
Single Session: $45
Package of 6: $240
Package of 12: $420
When you bring a friend or a significant other, they pay $15 to share your session. Packages are available with colonics also.
How long are the sessions?
The session itself takes anywhere from 30-45 minutes, but the room is yours up to 1.15 hrs. This allows you to shower afterwards without being rushed. You are also welcome to relax in our waiting area afterwards.
What should I bring for the session?
We ask you to bring the following items to each of your infrared sauna sessions in order to make it a safe and enjoyable experience..
3  towels for use in the infrared sauna (one to sit on, one under your feet and one to wipe the sweat off your face)
1 towel for your shower afterwards
Drinking Water
Bathing Suit or Shorts and T-Shirt
Reading material (optional)
For your convenience, you may rent towels for $2 each. We also provide you with complimentary body wash for your convenience.
How much should I expect to sweat?
It will depend on individuals and the sweat you produce from infrared is usually oilier and less watery than other sweating experiences.  This is due to the high concentration of toxins in the sweat you are expelling.  You might not sweat much in your first session.  It is essential to stay hydrated.
What can I take into the Infrared Sauna?
We encourage you to take water – hydration is essential!   You are welcome to take your phone into the sauna.  You can also plug your cell phone into the sauna speaker system to play your own music.
How will I feel after the session and what frequency do you recommend?
To fully experience the infrared sauna benefits, we recommend coming for at least two sessions a week to start. Immediately after a sauna session, you will feel refreshed and see a glow in your skin, similar to after a great workout.  It will take a handful of sessions before the body acclimates and begins to deeply detox and you see all the benefits related to infrared light therapy.
To book an appointment, book online or send us an e-mail or call us. 
Back